UPHOLSTERY CLEANING ADELAIDE
Colonial Carpet Care's carpet & upholstery cleaning technicians are fully trained to ensure that your furniture remains safe and that you have total peace of mind.
We can clean lounge suites, dining chairs, recliners and most upholstered items. We use a 3 or 4 stage "hot water extraction" method as detailed below.
Call us on 82853432 for pricing as it varies depending on the type of upholstery and the combinations especially if combined with your carpet cleaning which means you get to save $$'s.
The "HOT WATER EXTRACTION" method
This is the best and only recommended method of cleaning upholstery and is generally a 3-4 stage process depending on the type of fabric.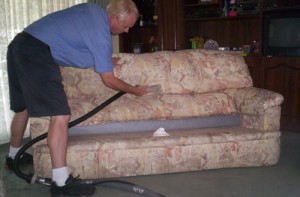 STAGE 1. The upholstery is checked for colorfastness on an inconspicuous part of the couch, if the technician feels there may be any potential problems with the fabric. The upholstery is then vacuumed thoroughly to remove as much dry soil as possible.
STAGE 2. The upholstery is now pretreated with a solvent to break up any built up oils from the head, hands and leg, contact areas. These are always problem areas on upholstery. Because of their contact with the skin and hair and it's absolutely essential that these areas are pre-treated. If not then you have very little chance of just getting them out with the cleaning solution.
STAGE 3. The upholstery is then sprayed with a ph balanced anionic (non foaming) cleaning solution and worked through the fabric with a microfiber upholstery cleaning glove. This loosens soils and puts them in solution ready for extraction with the hand tool.
STAGE 4. The upholstery is now "hot water extracted" using a steam cleaning machine and a hand tool. The narrow nozzle of the hand tool ensures a concentrated vacuum that removes a lot of moisture and dirt resulting in fast drying times and a fresh clean piece of upholstery.